Somehow...don't ask, I stumbled upon this Courtney Love site today. I loathe her. Loathe isn't even a strong enough word for how I feel about her. I have been a Kurt Cobain fan since he was playing Satyricon here in Portland. Way back, play back and all that shit...but the Kurt/Courtney thing makes me want to loose my lunch, and I'm leaving it there, because I'm still in a pissy mood and it makes me way too hyper and all jittery when I start talking about that.

Anyway, I found Courtney's little new year's resolution list that she posted on her site...I thought she was supposed to be all clean and sober-fied. I'm thinkin not s'much. Here's her list, I left in all the spelling errors and whatnot so you could enjoy her in all her glory:

Have a happy satisfied child and family
sell the pony get a new horse
try this "thin" anthropoligical experiment — get to my goal weight healthily and stay there
cahnt for the war in Iraq to cease asap
chant for Hillary to win
learn an asian language
dont peek at tabloids and bad websites, as it absouloutly shatters the Law to make that cause agiants yourself.
have fantastic sex with commitment and honour with someone whoo treats me as i deserve and dont give my power away
DO NOT SLLOW MYSELF TO BE A DOORMAT INA RELATIONSHIP EVER EVER AGAIN
hopefully start another family someday — soon. meet that guy
know that Kurts spirit is tended to and tend to it daily
LEARN TO DRIVE
STOP SMOKING GO TO HYPNI THERAPY AND JUST DAMM WELL STOP
another year, another year without even wine no matter how hard i try to justify that "wines okay" knw that is the demon voice and put it out of my thoughts
dont go to nightclubs with 19 year olds
stay pissed off at the world for song usage
no more surgery for any reason other than medical until i really need it in my 60s
I feel so sorry for Francis Bean...I really do. My lawd....the woman needs help. Does she honestly think that Kurt is looking down at her and cheering her on from wherever he may be...right. If I were him, I'd be throwing shit at her head. The woman needs to stop worrying so much about the sexing and the demon voices and straighten the fuck up. Geezus, her daughter is the same age as my oldest, well Francis is 13, mine is 12. But dude...it's just sad.

And don't start in with me about the "well at least she stuck around" bullshit. Kurt couldn't handle life and was a junkie from the get-go...I think he was a genius with ALOT of issues, and if he were still here and doing the same shit I'd have issue with him too...but he's not, and Courtney is.

She looks so much like him, it's scary...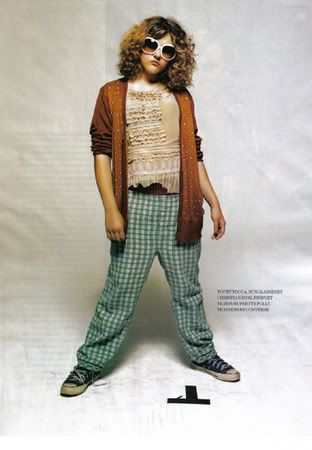 I love these pictures.

I guess there really wasn't much of a point to this post, other than to let everyone know that I hate Courtney Love, Francis Bean is growing up amazingly well, and Kurt (may he rest in peace) should throw things at Court's head.

The End.


Kanye West - Through The Wire